Events, performances, concerts in Valencia
Valencia counts numerous artists some of them being very famous such as the painters Joaquìn Sorolla, Mariano Benlliure y Gil, Francisco Pons Arnau or the impressionist Jose Royo. Among the contemporary artists, we can mention the world renowned architect Santiago Calatrava, the painter Juan Genovés who became a reference with his work "Crowds", the sculptor Juan Ripollès and the street art artist Escif. All of them are regularly exposed in Valencia.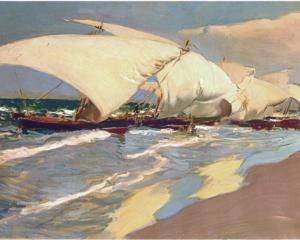 Joaquìn Sorolla, Valencia Boats

EXHIBITIONS/MUSEUMS
♦ Museum of Fine Arts
The Museum of Fine Arts (Museo de Bellas Artes) is the second most important art collection in Spain: great paintings from the 14th to the 20th century, the most known being a self-portrait of Velázquez and a Virgin with the Child of the italian Pinturicchio. From the 17th century and on: paintings of Goya, Greco, Murillo, Rusiñol, Zubiaurre, Zuloag and Benlliure y Gil, Francis Pons Arnau, Joaquín Sorolla and many others. Joaquín Sorolla's permanent collection: 42 works.

Current exhibition
12 March 2029 - 30 August 2020
L'INICI DE LA PINTURA MODERNA A ESPANYA : SOROLLA I EL SEU TEMPS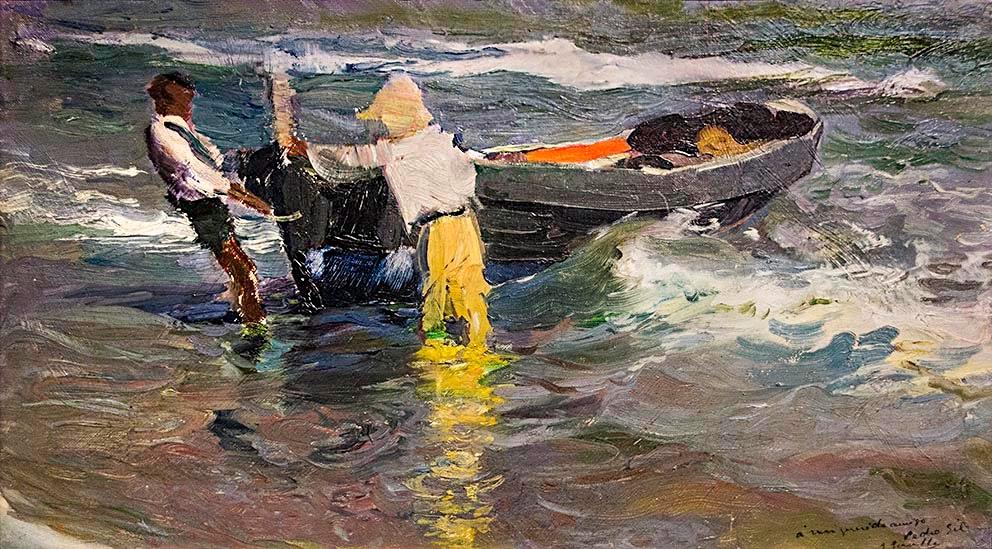 The exhibition « L'inici de la pintura moderna a Espanya: Sorolla i el seu temps » (The beginning of modern painting in Spain: Sorolla and his time), is fundamentally chronological and diachronic, and is structured in several areas that highlight the importance of the work of artists who were directly or indirectly linked to the Valencian artist.
Joaquín Sorolla Marina
♦ Museo Centre del Carme, in an old convent
20 February 2020 - 30 August 2020 ESCIF. QUÉ PASA CON LOS INSECTOS DESPUÉS DE LA GUERRA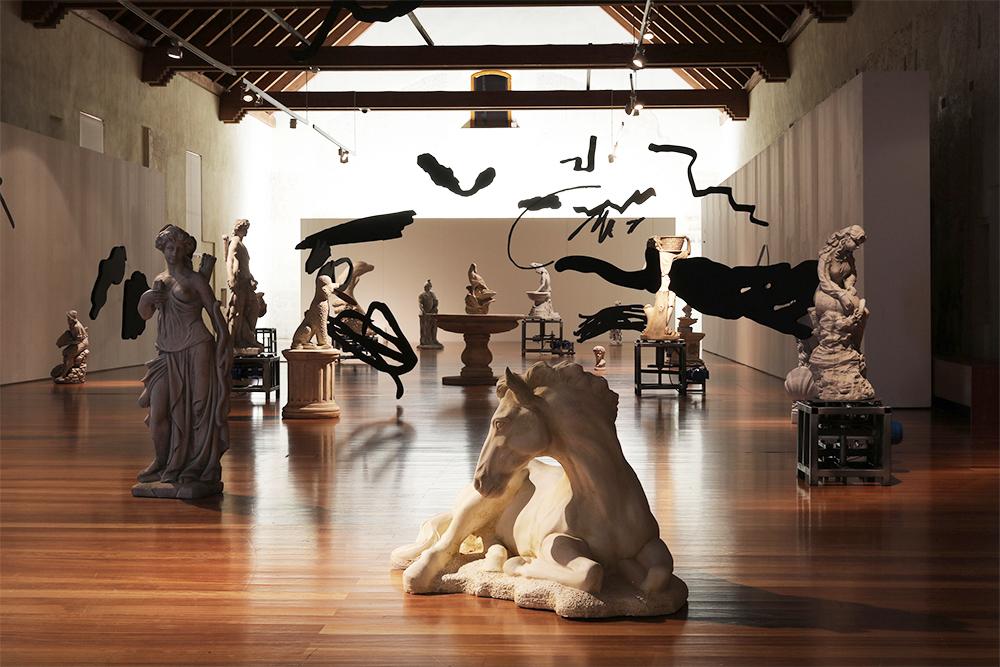 'What goes on with the little insects after the war'. Escif (a Valencian artist) articulates a noisy concert in a space of silence that indicates that, despite everything, it is possible to continue rising. His proposal is fed by sculptures, documents and sounds. He creates a dialogue between the drives of creation and destruction. The painted flowers become a response to questions in the inside, not forgetting that outside, insects, as the first link of the biological balance, are able to follow and give space to the flower.

Museo Centre del Carmen
Calle Museo 2
Near Plaza del Carmen
https://www.consorcimuseus.gva.es/centro-del-carmen/exposicions/
♦ MuVIM. Museu Valencià de la Ilustració i de la Modernitat
MuVim's collection features photography, design, advertising, moving image and 'net-art'. The museum building is an example of the city of Valencia's contemporary architecture.
23 July – 27 December 2020 "LA ALEGRIA DE PINTAR"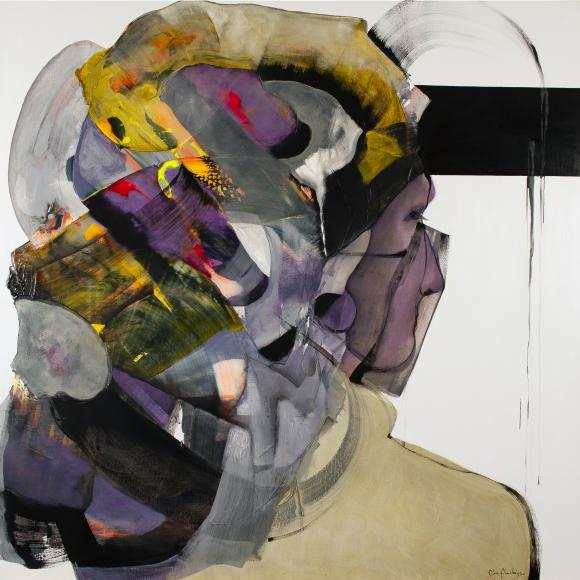 MuVIM reopened with the exhibition 'La alegría de pintar' of Olga Sinclair. Born in Panama in 1957, Olga Sinclair is a renowned artist, considered the first Panamanian to explore abstract expressionism. The exhibition proposes a tour of some thirty of her latest works, some of them made during the confinement that the artist lived in Madrid
♦ IVAM. Instituto Valenciano de Arte Moderno.
Collection of Valencian paintings of the 19th century and international art of the 20th century.
6 March - 15 September 2020

THE CONSTRUCTION OF IMAGES OF THE NEAR EAST AND NORTH AFRICA (1800-1956)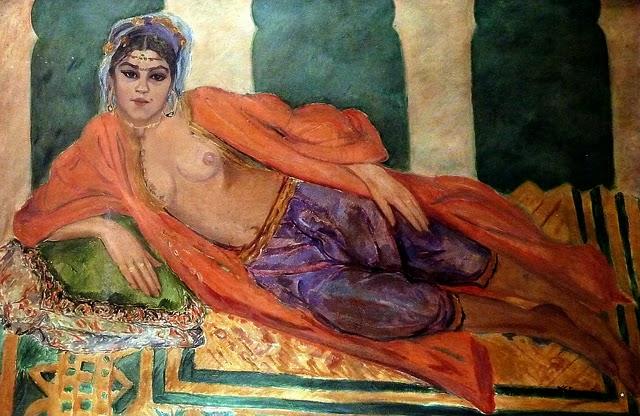 This exhibition seeks to analyse and question some of those commonplaces in the images that were produced between the time of the Napoleonic campaign in Egypt and Syria (1798-1801) and 1956, the year when Morocco and Tunisia gained their independence. The show highlights the way in which avant-garde movements established relationships with Oriental "exoticism" in their attempt to break away from the canon of tradition.
Francisco Iturrino González / Odalisca, 1912 Colección Zorilla Lequerica
♦ Casa-Museo Benlliure



In 1957 María Benlliure Ortiz donated the family home where her father, the famous painter José Benlliure Gil (Valencia 1855-1937), lived and worked along with numerous works of art and interesting objects within the house to the Valencia City Hall. Works by renowned artists of that time such as Sorolla, Muñoz Degraín, Rusinyol, Luna Novicio, Nagy, etc can also be seen in this museum.
http://www.museosymonumentosvalencia.com/en/museums/casa-museo-benlliure/
♦ Fundación Bancaja
8 November 2019 - 17 September 2020
Sorolla y Benlliure. Pinceladas de una amistad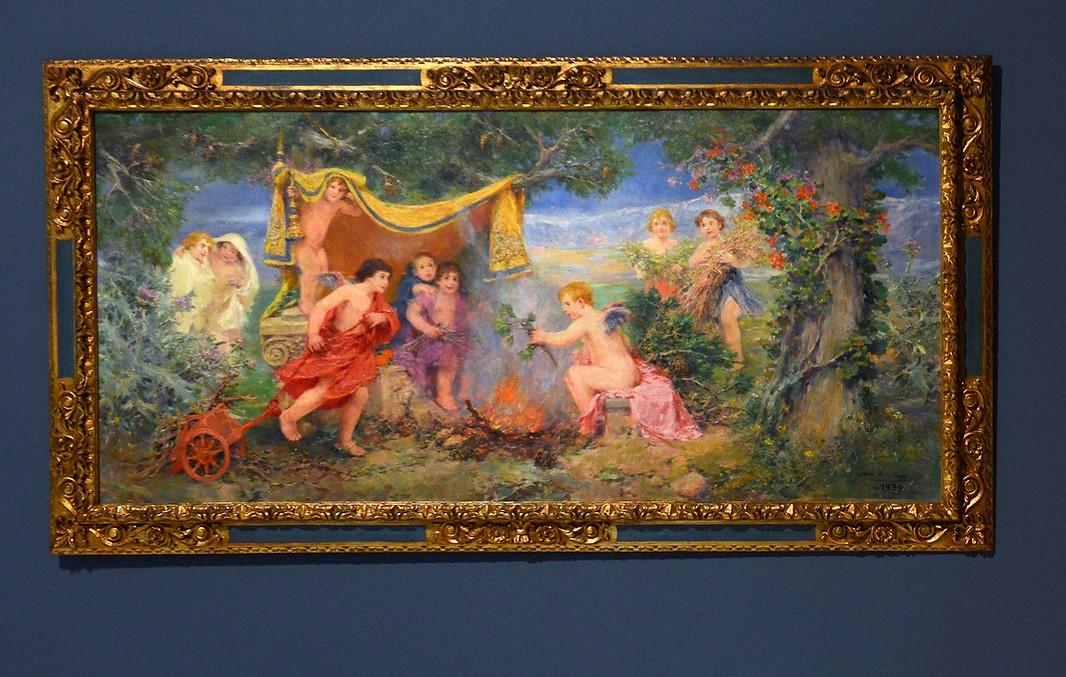 Fundación Bancaja presents an exhibition dedicated to Sorolla and Benlliure. Paintings of a friendship. The exhibition presents a selection of eight works by the two famous Valencian painters from the edges of two centuries, Joaquín Sorolla and José Benlliure, along with the reproduction of correspondence between them.
Plaza de Tetuán, 23 , Valencia
http://www.fundacionbancaja.es/
PERFORMANCES
Palau de les Arts Reina Sofia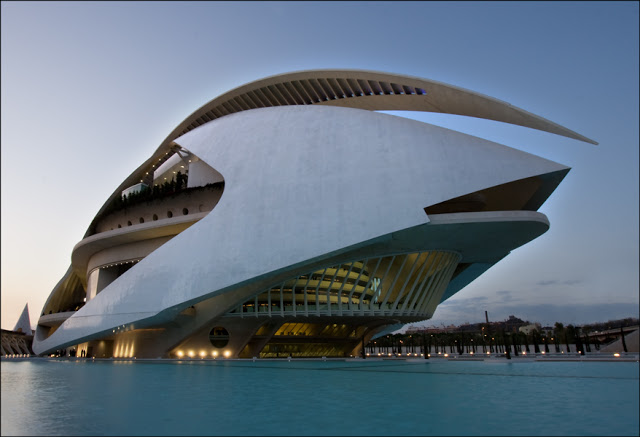 The Palau de les Arts Reina Sofia is part of the Ciudad de las Artes buildings designed by the Valencian architect Santiago Calatrava. It is an opera house and cultural centre dedicated to promote the performing arts and is expected to become one of the finest international venues for theatre, dance, opera and music concerts.

Annual music and opera festival, the Festival del Mediterráneo.
Programme 2018-2019: https://www.lesarts.com/temporada-2018-2019/
Palau de la Musica

The Palau de la Musica in Valencia is an important cultural centre with a programme of concerts, poetry, literature. It is reported as one of the most important musical centres in Europe.

Prog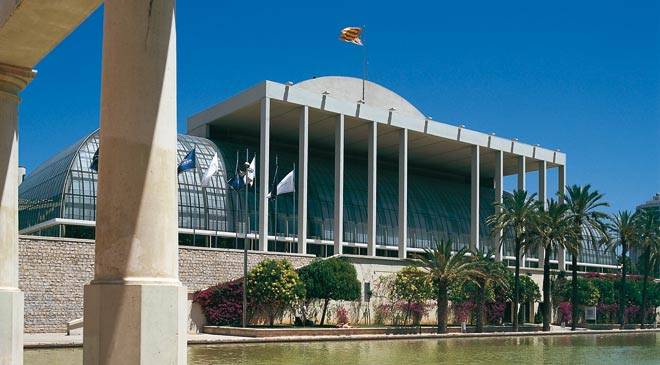 ramme 2019: https://www.palauvalencia.com/programacio-i-ventes/
23rd Valencia Jazz Festival (July 2019)
https://costablancaup.com/class/valencia-jazz-festival-2019-4/
City of Arts and Sciences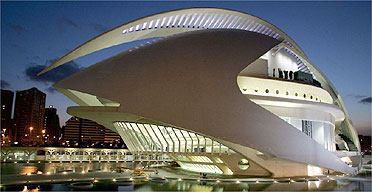 Concerts 'Música con Berklee'
'Berklee: Música e innovación'
July to October
http://www.cac.es/berklee/week.jsp

Concerts: agenda
http://www.cac.es/en/buscar.html?search=concert
http://www.cac.es/en/home.html
FESTIVALS
Film Festival
33rd edition of Valencia International Film Festival Cinema Jove
The Valencia International Film Festival Cinema Jove took place from 21 June to 29 June, 2019. The Festival is recognised as belonging to that selected top five specialised international film festivals of Spain (in a country that runs over 250 film festivals) and it has become a reference European festival that is known worldwide. The Valencia International Film Festival Cinema Jove is recognised by the International Federation of Associations of Film Producers (FIAPF) as a specialised film festival with an international ranking that is geared towards film professionals and which is always in search of new and brilliant filmmakers.
http://www.cinemajove.com/en/
Valencia Arthouse All Rights Reserved