Valencia Arthouse Reviews of Guests
VALENCIA ARTHOUSE GUEST REVIEWS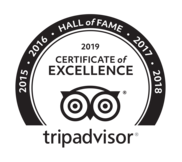 The Heart of Valencia in the Heart of Valencia
This is a hidden gem in a perfect part of the city close to everything but in a surprisingly mellow and quiet neighborhood just a few steps from the Plaza de Virgen. We spent leisurely mornings meeting fascinating travelers from around the world at the ever so inviting breakfast table. Our bedroom was clean and quiet and anything we might possibly need Margarita made sure we had. I call her Valencia's Concierge Extraordinaire. Whatever you need, she will be happy to help you with. If this was an AirB&B, Margarita would qualify as a super host. My husband and I had never been to Valencia before and we found that staying here was the best decision we could have made because it was a safe and convenient neighborhood, an aesthetically pleasing, cozy, and quiet environment, we had all the privacy we wanted and still had enough contact with others to learn new things and gather great tips every day. We have been traveling for 20 months and the Valencia Arthouse was our favorite stop!
S.Massad, Honolulu, Usa, June 2018
GUESTS
Selection of comments - in English - on Valencia Arthouse, on Trip Advisor (Certificate of Excellence 2014, 2016, 2017, 2018, 2019), and on Google, bedandbreakfast.eu, Zoover.
January 2023, Irma, Netherlands
"Beautiful quiet place in the old town"
Very nice place, right in the center and yet quiet. You immediately feel at home in Margarita's b&b. Nice to have breakfast with the other guests at a large table every morning and exchange stories. This is how you hear something about Valencia! I can wholeheartedly recommend this place! Next time Valencia we will look no further and go straight to this great arthouse.
November 2022, Indy, Netherlands
"Our very first stay in Valencia"
It was a well-kept and cozy hotel with very sweet guests and a very sweet hostess who took good care of everyone and chatted along, we really slept very well in a beautiful room and enjoyed the surroundings and all the tips we received.
October 2022, Françoise, Paris, France


We loved our stay
To you the French, I recommend the "Valencia Arthouse".
Margarita the hostess will welcome you warmly and in perfect French, which made things easier for us.
The rooms are large, comfortable and original.
What a joy every morning to taste the generous typical breakfast which is unlike any of those offered in a hotel.
Moreover, the guesthouse is very well located in the middle of the historical pedestrian area, 3 steps from the plaza de la Virgen ... cafes, restaurants. Everything is nearby and easy to visit.
At 200 meters from the V-Arthouse, the bus 95 takes you to admire the works of the architect Santiago Calatrava, a must in Valencia ... and you can of course continue to the beach. We simply loved our stay.
October 2022, Jacquelien Frederiks, Netherlands


We had a super stay at Arthouse. This b&b is in a very nice neighbourhood in the centre of Valencia, in a beautiful old Valencian house. The rooms are spacious and cosy. The owner Margarita made us feel welcome from the start. The breakfasts were also delicious. We can recommend this b&b to anyone who wants to explore the city or stay there longer for work or study!

September 2022, Brian, Toronto, Canada
Thank you Margarita
We stayed here for five nights and I cannot say enough about our experience. Margarita was a wonderful host and the place has a great atmosphere. It is very close to so many of Valencia's wonderful historic monuments as well as dozens and dozens of restaurants. It is also very close to the Jardi del Turia where we spent a lot of time walking and biking to other parts of the city. Superb!

September 2022, Chateau-Gontier, France
Absolutely Perfect
Thank you Margarita for the excellent welcome. The location is exceptional, all the places to visit in Valencia are close by, while remaining in a very quiet street at night. The rooms are very nice. Valencia Arthouse is really the place to meet people over a hearty breakfast.... The exchanges with Margarita are very interesting, a lot of good advice on the city, restaurants, etc... I would definitely come back without hesitation.
August 2022. Sarah Bräunig, Germany
I spent one week at Valencia Arthouse and couldn't have asked for a better experience. Margarita is a wonderful and dedicated host. She gives great recommendations, has an eye for all the details and makes sure your stay is as pleasant as possible. Her Spanish breakfast is a great start in the morning and gives you the chance to meet fellow travellers. She created a very special place to stay in Valencia. The location itself is just perfect, everything is within walking distance. I would come back and book with her again anytime, muchas gracias!
July 2022, Petra Schonebeck, Wuppertal, Germany
Thank you Margarita!
Dear Margarita,
thank you for the great week in Valencia! Every morning started with a delicious breakfast and great conversations! You manage to inspire even 17 year old boys! We have rarely been so well taken care of.
Hope to see you soon and many greetings from Wuppertal
June 2022, Daniella Keijsers, Netherlands
A wonderful place to stay! Protected from the city life, this beautiful old mansion is full of charm and atmosphere. Your hostess Margarita makes sure that you lack nothing and prepares a delicious breakfast every morning. Her 'inside information' about the city and its sights is super helpful! Sanitary facilities are clean, the room is cleaned every day.
June 2022, Chris Rigby, Canada


My 3 night stay Margarita's B&B couldn't have been better.
An easy/ flat 25 minute walk from the train station. Restaurants, bars, centre of old town 5 min away.
It's extremely clean, quiet, most comfy bed ever, great wifi, breakfasts are outstanding and above all Margarita's hospitality - unmatched!!
You won't go wrong here.
June 2022, Fuer You Tube
I can only agree with the others. We felt completely comfortable at the Valencia Arthouse. It is located in the old city centre, close to the sights. To get to the sea and the Ciudad de las Artes y las Ciencas, it is a good idea to rent bicycles, which is possible in the immediate vicinity.
Margarita's warmth and hospitality make the stay so unforgettable. We had a spacious double room with private bathroom to the back; it was totally quiet, except for the church tower that wakes you up at 8.00 am, which is perfect to sit at the deliciously set breakfast table at 9.00 am and have a cosy chat and breakfast with Magarita and the other guests.
The accommodation is wittily furnished, in every corner you discover objects from all over the world.
We can only recommend this B&B and will certainly come again.
April 2022, Jose Drost, Netherlands
Lovely place for a city trip to this beautiful city! Close to all kinds of sights, in the city but still super quiet. Very helpful hostess and a fresh, delicious breakfast in the morning. Also the amenities, such as a kitchen that you can use, make it very relaxing. Highly recommended!
March 2022, Alabama, Usa
Great Hostess and location !
Margarita made our trip to Valencia a perfect stay. We could not have chosen a better place as a base for our 4 day visit to this vibrant city in Spain. It was so nice to stay with someone local who loves their city and can give you advice on anything you may want to experience. We loved our room, the quiet location, the house, the decor and the breakfasts. We especially loved our conversations with Margarita and with other guests from all parts of the world. Thank you, Margarita! We will be back.

March 2022, Yolanda Havelaar, Netherlands
v
In the beginning of March 2022, I spent a week as a guest in the Valencia Arthouse. What a lovely place to stay! The location of the B&B is fantastic, just a stone's throw away from Plaza de la Virgen, so everything in the old town is close by. The B&B itself is very comfortable, very clean and the decoration is very special! You immediately feel at home. This is due to the warm-hearted owner Margarita. Every morning she served us a delicious and extensive breakfast which we could enjoy for hours. In addition, she gave very good tips and advice. No effort is too much for her. All in all, a real winner. If I go to Valencia again I will definitely choose to stay here!

February 2022, Alan, Uk

A very good address to share. We spent an excellent week in this typical apartment, quiet and furnished with great taste. The house is set back from main streets though located in the center of the old town. Margarita welcomed us warmly, with a lot of availability to give advice on hikes, walks, restaurants or any other good deals. The breakfasts were very plentiful and excellent. Highly recommend!
January 2022, Matthew Harrison, Usa
Awesome experience! I would definitely recommend The Valencia Arthouse
The Valencia Arthouse is a quirky, cozy and welcoming B & B that's in a great location. It's close to lots of interesting museums, monuments, historical churches, great restaurants, local bars and plenty of shops. Everything is easily within walking distance from the B & B. Our hostess, Margarita, gave us a printout with great suggestions of restaurants and what their specialty was along with the prices and locations. You are right in the middle of everything, but tucked away in a quiet and peaceful area. Every morning Margarita prepared a huge Spanish breakfast and we chatted with the other guests. This turned out to be one of the best things about staying at The Arthouse. We all talked about what we had done the day before or what our plans were for that day. Often we ended up changing our plans after hearing about something someone else did that sounded like fun.
It's obvious from the decor that Margarita has traveled all over the world and collected artwork from places she has been. If you ask her about her travels, she will describe them and show you something that she brought home as a souvenir. She speaks five languages so it wasn't a problem talking with other guests from different countries. She makes everyone feel comfortable and included. If you have an dietary restrictions, she will take care of it. If you have questions, she will make suggestions.
The Arthouse is about a five minute walk from the Turia River Park which you don't want to miss. It's a huge beautiful park where you can see all types of classes, demonstrations, games, dancing, just about anything. There are lots of bike, jogging and walking paths. If you are undecided about how to spend your day, ask Margarita for some suggestions. There's nothing she can't help you with. I highly recommend the Valencia Arthouse!
November 2021, Irene Yen, New York, Usa
Valencia Arthouse is an outstanding place to stay in Valencia. The location is terrific. The lodgings are comfortable and well decorated. Margarita is a wonderful host - warm and welcoming. She makes an outstanding breakfast. She knows a lot about the city, landmarks, history, and restaurants. highly recommend!
October 2021, Douter Oonk, Netherlands

This is simply the best place for me to be in Valencia. Clean, in the heart of the city center, spacious and nicely decorated. Margerita is a flexible and multilingual super host who will guarantee a perfect stay at her B&B.
October 2021 Georg P, Austria

Top location, Top host.
We had a fantastic time in Valencia! The owner made us very welcome, the breakfast was top and the location ist perfect! Close to the center AND quiet. Every morning we were looking forward to another day of exploring the city and surroundings.

October 2021, Mark DG Brown, London, UK

Excellent location for a very nice stay
We stayed for three nights in Valencia Arthouse. The location is great in the historical centre, 1 mn from the Plaza de la Virgen and the Valencia's cathedral, close to the trendy Barrio del Carmen. The rooms are very clean, quiet with private bathrooms. The hostess is very friendly and helpful, she has a lot of information on the city and what is going on. Good location, confortable rooms and excellent breakfast.
October 2021, Anne-Claire, Lyon, France

Quality accommodation with an excellent location in the historic city centre. Very central, but not noisy. The rooms are comfortable, very neat and clean. The breakfast is delicious and prepared with great care. The hostess loves and knows her city very well and is in fact a good adviser for sightseeing and restaurants. We are ready to come back here.
September 2021, Vaughan L, London, UK
Highly recommended
I totally recommend a stay at The Valencia Arthouse, the owner was so welcoming and made us feel right at home. The B&B is in prime location and there is so much see, all within walking distance. The breakfast was delicious, the accommodation so cosy and spacious. I'm hoping to book another stay there soon
September 2021, Idie Verleun, Netherlands
It was a pleasure to stay in Margherita's B&B for 5 days. We were a group of 7 and had access to 2 flats in the same building. A beautiful, colourful location in the middle of the old city, with spacious and very clean rooms. We enjoyed the breakfast with homemade Spanish delicacies and the warm, relaxed atmosphere. This location is very suitable for small groups (or families) and a good starting point for the many attractions in Valencia and close to the terraces in the old town.
September 2021, Peter, Belgium
If I make it back to Valencia, I wouldn't stay anywhere else. Such a friendly, personal experience in a beautiful place. Margarita gave us great advice (and directions) on where to go on our short stay. Breakfast is excellent, lots of choice and delicious tomato omelette.
August 2021, Marik K, Netherlands
Beautiful place and ditto rooms. The conviviality of the city started every day with the delicious breakfast of and with Margarita. It's nice that someone is familiar with you.
August 2021, Lisa Maimiti Elina D

AMAZING ! Margherita is the best host ever. Lots of interesting conversations, exchanges, amazing community, the place is lovely and full of stories.. what else ? I felt amazingly comfortable in this coliving space
July 2021, Breda, Netherlands

We stayed for 3 nights in this B&B and we loved it. It lies at a very picturesque, old and very quiet plaza but just a few meters away from the centre of the old centre. The room we had was very spacious and comfortable. You do immediately feel at home. Margarita is great in her support as a host. Every morning she surprised us with a great breakfast with all kind of Spanish delights :-). Also Margarita knows where to go to in Valencia so she made several reservations for us in the best restaurants. And indeed: they were all great !
So if you doubt if you would stay here: Stop doubting and just make the reservation.
February 2020, Gunner, Surrey, England

"Very friendly and brillantly located". We stayed at Valencia Arthouse last week as a surprise birthday present for my other half. In correspondence with Margerita I had mentioned the reason for our visit, however I hadn't expected on arrival a banner & balloon to be hanging in our room, what a lovely touch that gives a perfect example of just how wonderful a host Margerita is. The location is brilliant for exploring the historic centre of the city, the cathedral, Plaza del Virgin, Central Market are all reachable within minutes. We found that the city was easy to walk around, nice and flat with plenty to occupy us on a long weekend. On our second day we headed along the converted river on a beautiful sunny day & enjoyed the multitude of people running, cycling, walking dogs, taking part in yoga or playing on Gulliver (Look it up, it's cool & free). We continued on foot to the beach and had a lovely lunch in a beachfront restaurant at sensible prices. Then we walked most of the way back to the city centre. All in all a 5 hour walk and really enjoyable. Back to the accommodation which was plenty large enough & breakfast was delicious. Margerita makes much of the produce and if something isn't used she donates to some of the homeless people in Valencia. Both mornings we sat and chatted with Margerita about our backgrounds & ideas for the day ahead. To be honest I wanted to give her a big hug at the end of the stay because she had been so perfect. I really must recommend this B&B if you are coming to Valencia.
January 2020, Jim H, London, Uk

Perfect place to stay in Valencia!
A be & be full of colour and personality in a perfect location with a warm and generous host. A delicious breakfast really sets you up for the day and Margarita will offer welcome suggestions on what to discover in beautiful Valencia. The city itself is easy to walk around with many fantastic places to eat and drink near the be & be. Highly recommended and we hope to return!
September 2019, Switzerland
Very friendly, dedicated and open-minded hostess. Individually managed bed and breakfast with stylish décor. Delicious breakfast, absolutely clean rooms. The hostess has great tips for a nice stay, even maps are available. Centrally located house. Highly recommended!

August 2019
"Fantastic". Highly Recommended! The hostel is located right in the historical center of Valencia. The position is great: you're basically close to the main attractions of the city, public transportation and the beautiful park (less than 5 minutes walking). Every morning you'll wake up with a homemade breakfast (fruits, yogurt, juices..).
A big thank you to the wonderfull Margarita! the super-friendly owner! She's always available to give you any kind of recommendations you need. Thank you for everything!
July 2019, Germany
"Best B& B experience". Margarita is an awesome host. We felt home the moment we arrived. She answers all the questions and speaks several languages and is friendly and smiling all the time.
The apartment where the rooms are, is in the middle of a quiet neighborhood. The rooms are well equipped with a lovingly touch. The breakfast is served in the big living room and there is everything you'll need and can ask for. It's also a good chance to not only talk to Margarita but to the other guests from all over the world.
The apartment is in walking distance to all the things to see in Valencias old town. To reach the beach you can easily take a bus or a taxi.
We enjoyed our stay very much and thank Margarita for that great experience.

July 2019, Marie, France

"Lovely Arthouse". Our welcome was so nice. We were offered a glass of cava on arrival. The hostess was very attentive. She knows pretty well the town and what is worth seeing. Our room was large, luminous, opening on a small balcony. The B&B is located in a quiet street. Rooms are decorated with objects from all over the world that create a singular and unique atmosphere. And last but not least: we really enjoyed the tasty, generous, special B&B breakfast.
July 2019, Netherlands
"Special b & b with great hostess". We were warmly welcomed in this beautiful and special b & b. We had access to the entire floor with kitchen, bathroom and 3 bedrooms. Plumbing is nice and clean and the bedding smelled wonderfully fresh. The breakfast is nice and especially cozy, because Margarita is an enthusiastic lady with many nice stories. She also has good tips for your stay.
All in all we are very satisfied and we hope to come back again!
May 2019, Netherlands

"A great time". It's not going to be super personal. What we enjoyed: the warm welcome, the delicious breakfast and the pleasant conversations at the breakfast table. Magarita, thank you for all your good care and the good time we had with you. Gr. Tom & Anjo ».
April 2019, Portland, Oregon, Usa

"Location, location, location!". We visited for four nights in April during Semana Santa. We were able to view a pre-Easter procession from our balcony. Margarita is a gracious, enthusiastic hostess who provides an excellent breakfast and recommendations for nearby restaurants. Rooms are comfortable - we shared a private bathroom with our son. Valencia Arthouse is located near Plaza de la Virgen - easy access to the old city and shopping along La Paz. Recommend this BnB for travelers who enjoy meeting others and the charm of Valencia.
April 2019, London, UK

"Warmly hosted. Great location". A wonderful 3 nights at this quaint B&B in the heart of the old city. Margarita is a wonderful hostess with help and advice for every part of your visit. Amazing breakfasts and her eclectic collection of art and artefacts make this so different from a regular hotel.
March 2019, London, UK
"Lovely B&B". I stayed at Valencia Arthouse for 4 nights and had a great time. The owner, Margarita, is such a lovely and friendly person. On arrival she met me (even though I arrived fairly late) and we had some cava together while she told me all about Valencia and recommended things for me to do. She even wrote me a list of vegetarian restaurants when she found out I'm vegetarian! As the B&B was fairly quiet when I was there, I actually ended up with 2 rooms to myself, one with an en-suite bathroom. The rooms are so nice, really tastefully decorated with art and interesting items Margarita has picked up from all over the world. Bed was super comfortable and shower excellent. The breakfast was amazing (huge selection of freshly made stuff including pancakes, French toast, cakes, fruit salad....) and I also loved that there are oranges (from Valencia!) that you can help yourself to anytime. The location really couldn't be better - really central, only about 2 or 3 mins walk from the cathedral. Would not hesitate to stay here again and would highly recommend!
February 2019, France

It was my second stay at the Valencia Arthouse and I was so happy with my choice. I came in Valencia for business. The location is ideal : in the very heart of the old town, so easy to reach my meeting places and go out for dinner. Rooms are luminous with charming flower balconies overlooking a small place, very quiet. I had my private bathroom: very clean. And what about the very delicious home-made breakfast served by the hostess, Margarita, who is so happy that you feel happy and so caring.

October 2018, London, UK

"Viva Valencia". My wife and I stayed at the Valencia Arthouse at the end of September for a couple of days. We were warmly greeted by the owner Margarita who showed us around and gave us the choice between two loverly rooms, we chose the large room at the front of the house because it had a tiny balcony overlooking the street/square. The room was super stylish and spacious. We had the use of the kitchen with it's supply of tea's and coffee's.
The Arthouse located just around the corner from the place de la virgin with it's magnificent cathedral surrounded by restaurants and bars.
Margarita gave us a sumptuous breakfast and she couldn't have been more helpful with her advice of what to see and do.
We would thoroughly recommend The Arthouse. We left Valencia feeling that we had made a new friend and found an the ideal base to explore the city on our future visits.
Thanks Margarita. See you soon.
September 2018, Canada
"#1 B&B. What a host". My husband and I just spent four nights at the Valencia Art House b&b. We have stayed in many, many b&bs and can honestly that this is truly one of our absolute favourites. The owner, Margerita, does everything possible to make your stay an unforgettable experience. She even did our laundry!
The cost was very reasonable, the location was perfect, the room was huge and very comfortable, and the breakfasts were just crazy good. Homemade crepes, banana bread, eggs, French toast, and lots of fresh fruit and Greek yogurt. Really amazing.
Margerita was so helpful - her English was excellent! She met with us for extended periods of time to help us plan our days and recommend several great restaurants - there are many in Valencia. While there, we even did a four hour paella cooking class at Escuela de Arroces y Paella Valencia. So much fun!
We would highly, highly recommend Valencia Art House b&b. It is, hands down, the #1 bed and breakfast to stay in Valencia!
August 2018, Tarragone, Spain

"Great B&B at a perfect location". I can't recommend Valencia Arthouse highly enough. The apartment is located in a quiet part of the old town but still located perfectly. Only a minute away from both Turia park and plaza de Virgen. The cathedral, archeology museum, bars, restaurants, buses and bike hire are all literally around the corner. Margarita met me upon arrival with a cold drink and gave me lots of advice. I went to most of the places she recommended and they all were great! From eating a menu del dia at Saona, watching a flamenco performance at Del Duende to cycling to a authentic beach hut called Elocho.
My room was large, clean, the bed comfy and the fan was welcomed as it was very hot in town. Margarita let me borrow a beach towel which was handy. Breakfast was great! Love the creamy yoghurt, several meats, cheeses, fruit, scrambled eggs some mornings, bread and sweet pastry. You will leave breakfast satisfied - that's for sure.
If I visit Valencia in the future I'll stay at the Arthouse again!
June 2018, Honolulu, USA
Margarita runs a great B&B...the breakfasts are a major meal and she is so attentive and kind. Our room is comfy and quiet and she cleans every day! Her concern is that you have a great time during your stay in Valencia. The other guests we've met here so far have also been great. Would highly recommend.

May 2018, Edinburgh, United Kingdom
"A great place to stay". My wife and I stayed for 5 nights in mid May. We knew we had selected well when we were greeted by Margarita outside the accommodation when we came into the little square near her house. Margarita knew when our fight was due in and had calculated our likely arrival with her.
We endorse the accolades below. With your morning starting off with a hearty breakfast you were set ready for the day. Her tips where to go , and places to eat were spot on. As stated the location is fantastic for the old city., and the park on the old river bed. The latter is a great place to escape should you need to chill from the city, especially during the festival for the Virgen, which was in full swing when we were there. We heard a great many shouts of "Viva Valencia", at the festival, we would also say," Viva Margarita".
A big thanks to Margarita, a perfect host.

May 2018, San Carlos, Usa

"Perfect place to stay to enjoy Valencia". We just loved everything about staying here, from the host to the beautifully decorated rooms to the breakfasts to the advice and suggestions made by the host! Your best friend wouldn't be nicer and more gracious (she even went with my husband to show him a place across the river where he could park free for the days we were there)...and might not have such a nice place to offer you to stay.The location is amazing...right in the middle of old town, near everything you would want to see or visit. It doesn't take more than 8 minutes to get anywhere in the old town area and most things are less than 5 minutes away! Just loved staying here for 3 days. Beautiful, quiet room with modern bathroom, great breakfasts in beautiful breakfast room, great advice for sightseeing, and an elevator in the building!
April 2018, Oakland, Usa
"The perfect place to stay in Valencia". Generally, I am very good at picking places to stay which, while providing all of the necessary amenities, nevertheless lack the sterility of hotels, and have a personality or character. But this time, I surprised even me. Five stars is not quite enough!
My friend and I stayed at this cozy B&B for a week. And we were so happy that we did. It's not a separate house, but the entire floor of an old building. It's very easy to get to and from the airport by taxi; €20-€25 will do it. It's very comfortable, and being in the Ciutat Vella on a street where cars are not alowed at all, is likewise quiet and peaceful. That is a must for me, because I am a light sleeper. It is also quite secure, so our belongings, passports, and cash were safe.One of its biggest advantages is its location. It's a three minute walk to the Turia Park. It's about a two minute walk to Plaza de la Virgen, which is tourist central in Valencia. The Cathedral is there. It's about a seven minute walk to the Central Market. It's a one minute walk to one of the better restaurants in Valencia, Bar Almudin, also highly recommended. (But bring your appetite!) When Almudin is closed, the restaurant right next door is very reasonable and pretty good. I would suggest avoiding most of the restaurants on the plaza itself. They don't care if they ever see you again, and it shows.
Margarita, or Ita, the owner, is a former art dealer, and nearly everything in the flat is a piece of art. So it is very attractive. But Ita herself is actually the best news about the ArtHouse. She is warm, friendly, informative, kind, and never stops laughing. This was especially important to me, because my friend suffers from a kind of Alzheimer's disease, and she was very understanding and supportive of his problems.
I do a lot of traveling, and though it is easy to find friendly innkeepers, she made us feel like we were her friends, not merely her guests. She presides over a very good breakfast every morning, and she makes it feel like breakfast with family, rather than hostess and guests. She speaks at least four languages that I am aware of, which is even more helpful.
I can not recommend this place highly enough!!!!

March 2018, Israel

"Great Location, Magical place, Excellent host!" My first time in B&B. Margarita the host and the place make you feel at home with your family and friends. We had great welcome with refreshments and personal recommendation for things to do and visit in the city during Fallas.
We had a very big and relaxing room, private bathroom, a coffee room, breakfast was rich and tasty, and gave us the opportunity to chat with other guests and share experience.
Margarita helped us with booking restaurants prior our arrival, and accompanied us to the police station as a translator since one of our passports was taken by a pickpocket. she really made the procedure fast & easy, and it is really not obvious.
Highly recommended, We will certainly come again!
TELEVISION

10 December 2016
Margarita welcomes Jérôme Pitorin for 'Echappées Belles', a TV Reportage of the French channel France 5, dedicated to Valencia and its surroundings.
https://www.youtube.com/watch?v=JGz4Xacmkv
PRESS
About VALENCIA ARTHOUSE in Bordeaux Tendances (France), August 2017
Lodging. Located in the historic centre of Valencia, very close from Valencia Cathedral, the Carmen area and the central market, the Valencia Arthouse is the ideal place to stay. A Spanish breakfast and other sweets await you.
http://www.bordeauxtendances.fr/week-end-a-valence-espagne/