Valencia Arthouse Reviews of Guests
VALENCIA ARTHOUSE GUEST REVIEWS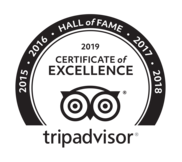 The Heart of Valencia in the Heart of Valencia
This is a hidden gem in a perfect part of the city close to everything but in a surprisingly mellow and quiet neighborhood just a few steps from the Plaza de Virgen. We spent leisurely mornings meeting fascinating travelers from around the world at the ever so inviting breakfast table. Our bedroom was clean and quiet and anything we might possibly need Margarita made sure we had. I call her Valencia's Concierge Extraordinaire. Whatever you need, she will be happy to help you with. If this was an AirB&B, Margarita would qualify as a super host. My husband and I had never been to Valencia before and we found that staying here was the best decision we could have made because it was a safe and convenient neighborhood, an aesthetically pleasing, cozy, and quiet environment, we had all the privacy we wanted and still had enough contact with others to learn new things and gather great tips every day. We have been traveling for 20 months and the Valencia Arthouse was our favorite stop!
S.Massad, Honolulu, Usa, June 2018
GUESTS
Selection of comments - in English - on Valencia Arthouse, on Trip Advisor (Certificate of Excellence 2014, 2016, 2017, 2018, 2019), and on Google, bedandbreakfast.eu, Zoover.
July 2023, Amelia Wilson, UK
⋆⋆⋆⋆⋆ If I could give six stars to our hostess, I would. Margarita is incredibly kind and attentive, and she gave us some fabulous recommendations for things to do in Valencia. Plus, the breakfasts she makes are out of this world!
The hotel itself is charming, comfortable, and well located, and each room has it own delightful character.
If I ever come back to Valencia, I'll book this place again in a heartbeat.

July 2023, Atlanta, Usa
⋆⋆⋆⋆⋆ Home away from home!
Ita is a wonderful and warm host who makes sure your trip is great! The room was very comfortable and the breakfast was delicious. Her be&be is in a great location....quiet when you need it and walking distance to tourist attractions, restaurants, park and more. I highly recommend staying here on your trip!
July 2023, Catherine McMichael, Usa
⋆⋆⋆⋆⋆ Margarita is a thoughtful and helpful host. She welcomed us after our long international flight with a greeting from the window above the little plaza and then with fresh coffee and creamy French toast fingers. She has many suggestions on where to go and how to get there. The beds are comfortable and the rooms are very quiet. There's access to a full kitchen on Floor 2 (3 for Americans), including a fridge, microwave, washer and outdoor clothesline. There's a balcony to enjoy your wine and snacks. Some rooms have ensuite baths, others share, but the overall feeling is one of relaxed privacy. A delicious full Spanish breakfast is served at 9:00 a.m. It's a 5 minute walk to Cathedral Square, Plaza de la Vergin, the Rio Turia Parco, taxi stands, bus stops, and 10 minutes to the huge Central Mercado. We wouldn't look anywhere else to stay if/when we return to València.

June 2023